Together Among Mountains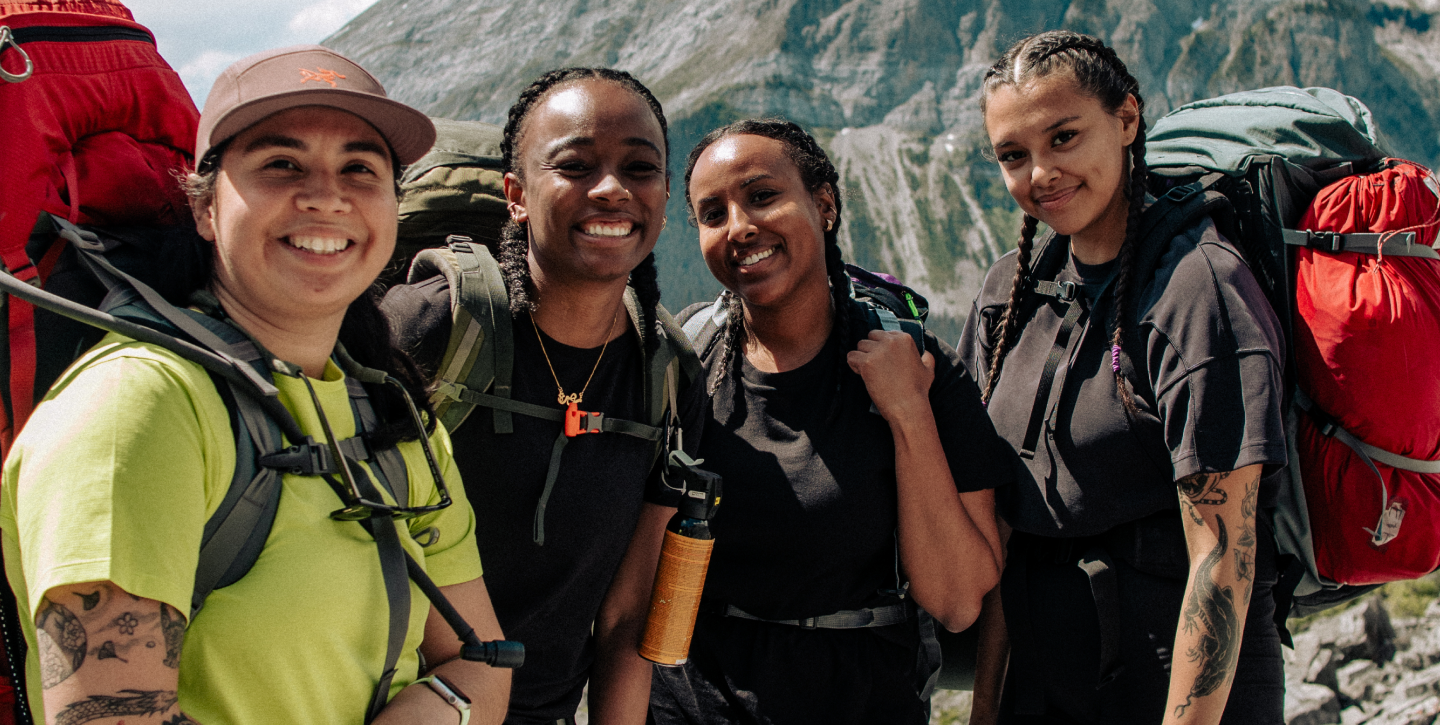 Rooted to community. Ready to move. Reimagining the outdoors. This Giving Tuesday, Arc'teryx is highlighting and giving to community based, grassroots organizations who help bring everyone into the outdoors safely, equitably and sustainably.
Spending time outside and building relationships is what we at Arc'teryx do best. Our work has always been a response to the mountain environment, shaped by our experiences there, and the knowledge that teamwork reinvents what's possible. Our desire to leave it better starts by connecting with people and groups, listening to their needs and growing the outdoor community.
This year, we're continuing our support of each organization by giving them 100% of the proceeds from our No Wasted Days film tour screening in their location. Up to 75,000 CAD will be split between the groups, helping improve access to natural spaces for BIPOC and LGBTQIA2S+ communities, support local initiatives and bring diversity into the outdoors.
This is what we live for — together among mountains.
Check out the groups we're committed to and find a No Wasted Days screening near you:
SheJumps:
SheJumps increases the participation of women and girls in outdoor activities.
Partnering with nature, SheJumps creates educational outdoor experiences for girls and women that nurture growth and transformation.
Colour the Trails:
Colour the Trails is a national Black woman owned business, focused on improving access to outdoor activities for BIPoC (including those who lay within the intersection of BIPoC and 2SLGBTQAI+ community) adventurers.
Soul of Miistaki:
Creating connections to the traditional lands of Indigenous people through movement, personal growth, and inclusive access to outdoor activities.
Sending in Color:
We strive to create a diverse and inclusive climbing community and industry by implementing Justice, Equity, Diversity, and Inclusion (JEDI) principles to break down barriers of accessibility for all Black, Indigenous, and people of color (BIPOC) and create educational spaces to introduce new climbers to the sport and the outdoors.
Washoe Tribe Cultural and Outdoor Expedition Program:
As the Wá∙šiw creation story goes, the people were brought to their homelands surrounding Lake Tahoe by géwe (the coyote) and told that this is the place the Wá∙šiw People were meant to be by nenťúšu. nenťúšu then told all of the plants, medicines and animals of this place to grow strong in order to provide nourishment for the Wá∙šiw and she reminded the people of their responsibility to care for this place (one of several creation stories).
Like most native peoples our lifestyles revolve around the environment; the people are part of the environment, and everything is provided by the environment.
Hike MTL:
As a black person, you don't see a lot of people that look like you in these spaces, or in advertising. As an outdoor enthusiast I found a need to create a safe and inclusive space. A space that inspires and encourages black, racialized and marginalized people to get outdoors. A space for everyone to take advantage of nature's therapeutic benefits.
We Explore Earth:
We Explore Earth is a nonprofit organization dedicated to promoting individual well-being and environmental stewardship through various outdoor experiences, education on 'Protect Mother Earth' principles, and recognition of indigenous cultures.
POW:
We help passionate outdoor people protect the places and experiences they love from climate change.
Active Inclusion:
Active Inclusion Network CIC was founded in 2020 to help champion diversity and inclusion in the outdoors, and to help inspire and empower more ethnic minority communities to get active.
Founded projects include Muslim Hikers which is the biggest community in the world for outdoor Muslim enthusiasts, Muslim Runners and Muslim Cyclists.