Arc'teryx Shifts Focus From The Outside In, Brand To Apply Expertise To Make Protective Gowns For Healthcare Workers
Global design company responds to COVID-19 outbreak by manufacturing 90,000 medical gowns for provincial health authorities in partnership with B.C. Apparel and Gear Association members.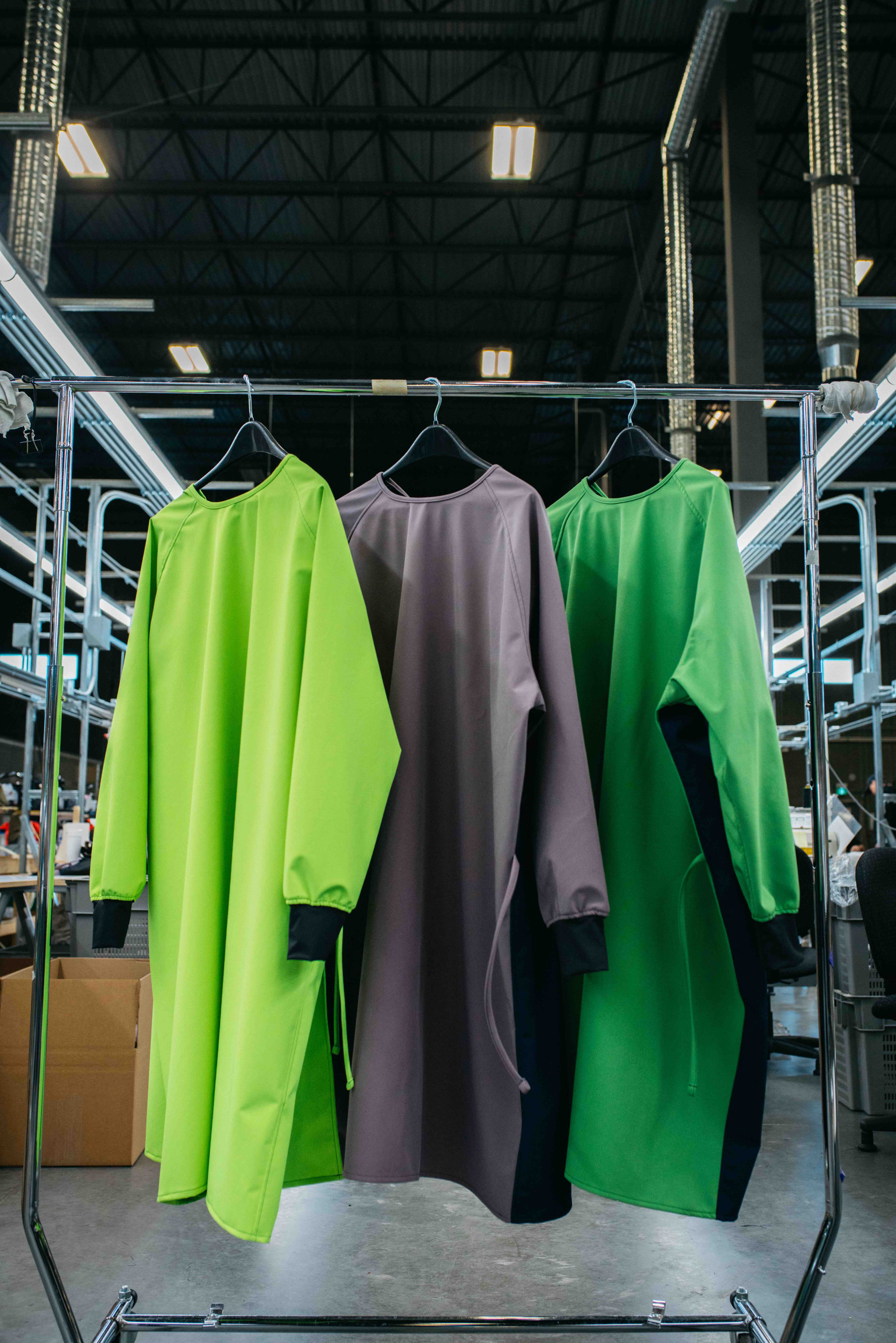 (Global) NORTH VANCOUVER, Canada, April 14, 2020 – Arc'teryx Equipment is applying design to solve the medical gown shortage in the brand's home province of British Columbia. In collaboration with key industry partners, the outdoor apparel company has prototyped and developed an approved medical gown for frontline healthcare workers. The pattern, design and technical specifications of the medical gown can now be accessed by manufacturers worldwide through the B.C. Apparel and Gear website.
Five hundred of these medical gowns were delivered to hospitals last week, and the brand is expected to manufacture 30,000 medical gowns in the weeks ahead. Between Arc'teryx and local manufacturing partners Mustang Survival and Boardroom Clothing, a total of 90,000 medical gowns will be delivered to community hospitals.
The call for medical gowns came directly from the local healthcare community by way of the B.C. Apparel and Gear Association, of which Arc'teryx is a member. Working alongside manufacturing partners and with the guidance of health authorities, a design was created, prototyped and tested. Within two weeks a team of Arc'teryx sewers, engineers, sample and pattern makers gathered at the ARC'One facility in New Westminster, B.C. to fulfill the first production order of 500 medical gowns.
"The world around us has shifted, and we knew that we needed to help protect our frontline healthcare workers," said Shirley Chan, Senior Director of Product Commercialization and Quality. "There wasn't much we could do on the medical front lines, but as apparel designers and manufacturers, we could turn our expertise to support the medical community in this fight. Creating the right gear is something we know how to do, and by making the pattern open source, we hope others with manufacturing capabilities can bring more protective equipment to those communities in need."
The team manufacturing these medical gowns have been adhering to strict health and safety protocols at the ARC'One facility. Workstations are arranged to comply with social distancing practices, and all employees are wearing masks and gloves while working. Before the medical gowns are distributed to healthcare workers, they will be washed and sanitized by K-Bro Linen Systems, a laundry and linen service for hospitals and healthcare providers across Canada.
As part of a federal initiative to establish and secure new supply chains to produce personal protective equipment for Canadian healthcare workers, Arc'teryx is currently focused on producing medical gowns for healthcare workers in British Columbia. However, the brand will continue to consider requests from other provincial, federal, and international health authorities.
About Arc'teryx
Arc'teryx is a Canadian company based in the Coast Mountains. Our design process is connected to the real world, focused on delivering unrivalled durability and performance in extreme conditions. Our products are distributed through more than 2,400 retail locations worldwide. We are problem solvers, always evolving and searching for a better way to deliver resolved, minimalist designs. Good design that matters makes lives better.
Contact
Arc'teryx PR
media@arcteryx.com