THE RESURRECTION OF THE NUCLEI FL

Back by popular demand.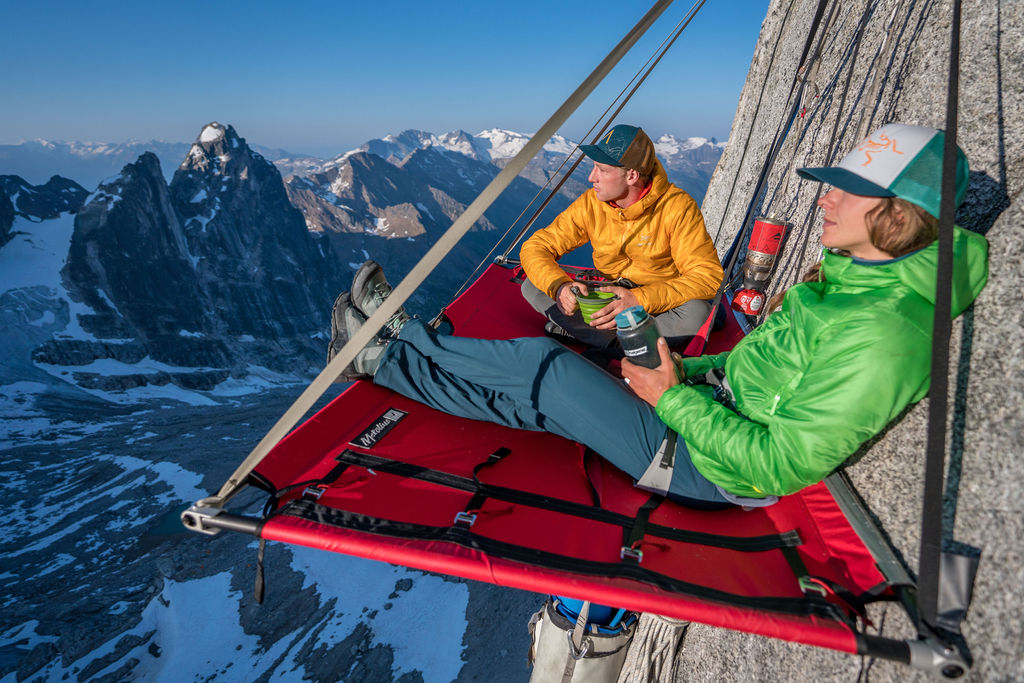 Words—Morgan Tilton, Photos—John Price
When designer JJ Mah caught wind that professional climber Will Stanhope lived in a Nuclei jacket for 3 years while projecting the hardest alpine climb in North America, Mah needed to know more.
The two grew up together and first climbed on a Junior Competitive Team, 15 years ago. Mah had never worn the Nuclei: It launched in 2015 and discontinued the next year before he joined Arc'teryx. But Stanhope's four-day first free ascent of the Bugaboo's Tom Egan Memorial Route and more than 1,000 days of preparation was testimony to that jacket's near-impeccable construction.
The Nuclei was legendary. Our entire staff and all of the athletes loved the piece.
Low-volume sales pushed the jacket off shelf, but by December 2017, the design team started brainstorming a resurrection for Spring 2020. Nearly the entire Arc'teryx climbing team requested one-off versions for themselves and prototypes were phantoms of the office, as they were in high demand among product testers. Mah tinkered with old iterations and called on athletes for their advice including Stanhope, who's connection with the Nuclei proved to be potent.
Stanhope rattled off what wasn't working and what he loved about the jacket, which gave us an opportunity to work on improvements. He brought me his super battered-up old Nuclei—I had to hang it away from my desk. It was so smelly it gave me a headache, but the jacket held up so well.
Alpinist and IFMGA Guide Mark Smiley still has his original Nuclei, too. Six years ago, he and his wife, Janelle, started ticking off the Fifty Classic Climbs of North America using this jacket as their foundational layer from Denali's Cassin Ridgeto the North Face of Mt. Edith Cavell. When Smiley went on an annual guiding trip to Peru, he gifted his first-ever Nuclei to their padrino family.
Our uncle was still sporting the jacket when I went back. It was beat up; I traded him my newer one. He was psyched. My original, holey green Nuclei is still my work jacket.
Nuclei FL is built to shield wind. The air-tight face traps warmth and heat. It's ultralightweight. Packable. Durable against the abrasive teeth of ice and rock. Splitting-cold campouts, ski transitions, belay stations, big wall ascents, portaledge coops: It's made for fast alpine travel with loads of downtime. Last July, Smiley used his prototype guiding Palisade Traverse, a three-day continuous ridgeline push over five 14,000-foot peaks in California:
Thunderbolt, Starlight, North Palisade, Polemonium and Sill. A slow-moving mission with brutal, windy conditions. Except at lower elevations, Smiley inhabited his Nuclei FL. "On expeditions I carry as little as possible with the maximum warmth per weight. This fits the bill."
This rendition is even more fortified, even Mah has adopted the Nuclei as his go-to nest. Reinforced zippers prevent snagged textiles. Hand pockets double as dump pockets for stowage. The durability-to-weight ratio is enhanced through the 10-denier nylon-ripstop taffeta fabric and featherweight Coreloft Continuous 65 fill. Even the synthetic insulation withstands stuff-and-wear cycles—and laundering.